On Sunday morning, November 8th,  UCSB dorm residents and members of the Isla Vista community were treated to a remarkable concert.  Carillon students from UC Berkeley visited Storke Tower and played a recital program that sent the peal of carillon bells for miles in every direction.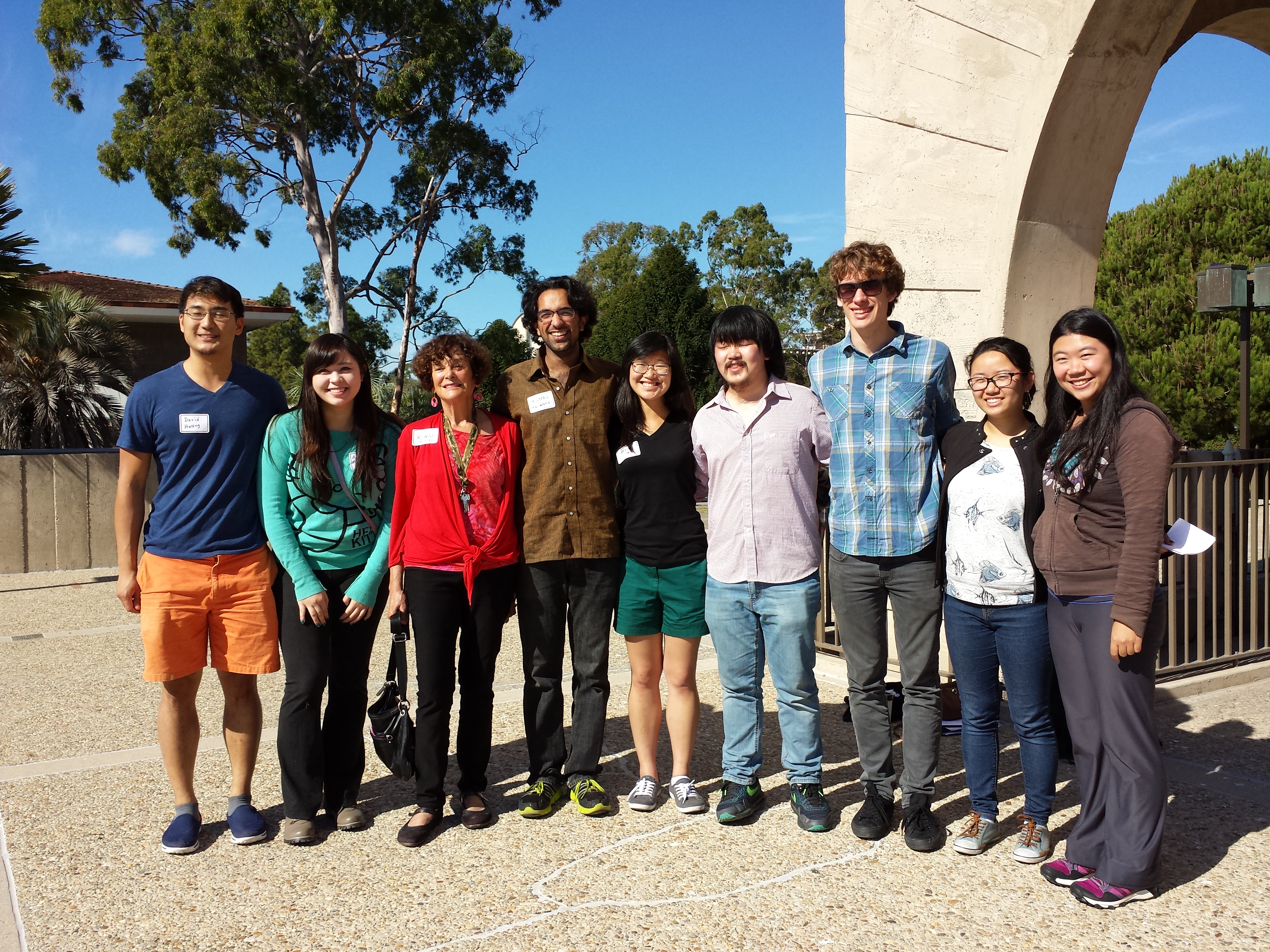 There are two ways to listen to a carillon concert.  Up close, and not so close.  If you are, by some extreme of luck, able to go inside the tower, you will hear the machinations of the carillon as well as the music of the bells.  It reminds me of the ballet.  When you are on the stage, you hear the thunks, cluncks, and slides of 100 (or more) pounds of dancer hitting the floor again and again.  But if you are across the orchestra pit, a mere 50 or 100 feet away, you only hear the strings, the woodwinds, the brass, the percussion. In the tower, things can be noisy because the musician is banging  his or her fists on wood and although the chime of each individual bell spreads out as it leaves the tower, while inside the tower, the bells are loud and the echos are powerful.
UCSB's Storke Tower sits in a lovely plaza with a reflecting pond.  There are wide stairs into the plaza, which is lower than the surrounding grounds, and on Sunday, there were several people lounging about on the stairs enjoying the concert and the day, which was perfect for bells. I listened from a cozy UCEN nook. Outside the plaza, and off campus, my roommates were also enjoying the concert.  The most wonderful thing about that heaviest of all musical instruments, is that you don't go to the concert, the concert comes to you.
The four UC Berkeley musicians, Leslie Chan, Kunal Marwaha, Anders Lewis, and Felix Hu played a variety of selections, including my favorite, Londonderry Air, arranged by Sally Slade Warner.  I wasn't able to record it, so the link is Stacey Yang playing similar version on the University of Sydney War Memorial Carillon. In fact, I found an unexpected number of carillon videos, and although I have midterms coming up I found time to watch more than a few.  My favorite was Jeff Le (class of 2008) playing the Harry Potter theme at the University of Rochester Hopeman Memorial Carillon.
I'm now more than a little interested in trying my hand at the carillon.  I haven't had the good fortune of going up Storke Tower for a tour — every time my email tells me that a tour is offered, I'm too late to reserve a slot.  And of course, if you follow my posts here, you know I'm all about the post-concert reception cookies.  When you are at home and the carillon concert comes to you, you have to bake them yourself!
Views: 7635