My Junior Recital was a resounding success!  Thanks in particular to those who drove up from Los Angeles.  I am including the program notes from my program here for those who want to listen on the CD.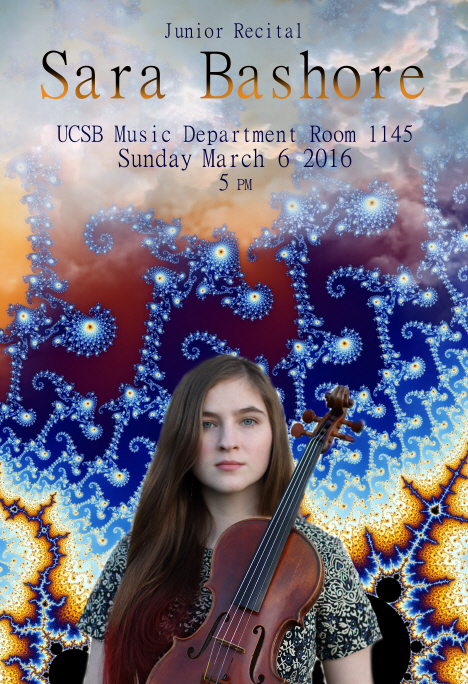 George Frideric Handel (1685 – 1759) completed his Sonata in D Major, Op. 1, in 1750. This masterwork was his final violin sonata, published posthumously. The first of four movements is a sweetly plaintive Affetuoso decorated a climbing arpeggio and gentle trills. Next, fingers dance across the violin as the brilliantly vibrant Allegro invites us share in the happiness of a joyous life. Handel's Larghetto suddenly breaks that the mood with a rolling tidal theme of loss, loneliness, and pain. Soon enough, a brightly transitional Allegro brings resolution.
Ludwig van Beethoven (1770 – 1827) published his Romance in F Major, Op. 50 in 1805, although it was likely written and performed several years earlier. A microcosmic piece of few extremes, it connects the listener to the breezy pastoral experience of a simpler time while examining the richness of modest aspiration. Beethoven is perhaps coercing us to smell all the flowers and enjoy each sunset while we can.
Johannes Brahms (1833 – 1897) wrote twenty-one charming Hungarian dances during the first half of his life. Most of the dances are not entirely original, but capture and embellish traditional Hungarian folk themes, recasting them to a variety of instruments and orchestral configurations. Brahms' work was contagious and many of his contemporaries and successors further modified and enhanced the dances to the point that there is now an arrangement for virtually any instrument you can name. When No. 1 begins, we imagine lovely ball gowns sweeping parquet floors under crystal chandeliers. When No. 1 ends, we find ourselves luridly dervish-spent, sleeping in the haze of a bonfire. It's a dangerous three minutes.
Frédéric François Chopin's (1810 – 1849) Nocturne No. 20 in C# minor was written for Ludvika, his elder sister, in 1830. The Nocturne expresses grief and lament with a depth and purity beyond expectation, and as a result, the unrelenting raw, emotionally haunting music has been featured in several important films. Biographers suggest that Chopin's artistry in infusing sorrowful passion into his works was a byproduct of his challenging health problems, displacement from his homeland, and troubled personal relationships. Virtuoso Nathan Milstein's (1903 – 1992) arrangement for violin is true to the original, and wonderfully tight – Milstein was well known for his desire to perfectly articulate each note.
Pablo de Sarasate (1844 – 1908) composed elaborate show pieces primarily to exhibit his amazing mastery of technical skill on the violin. Navarra, Op. 33, Sarasate's 'Spanish Dance', was written for two violins. With an ego big enough for two, some wonder jokingly if Sarasate didn't somehow intend to magically play both violin parts at the same time. The somewhat stereotypical Spanish dance flavor provided by Sarasate is jota in style, but the finish is bigger, replete with fiery bowing.
Béla Viktor János Bartók (1881 – 1945) was the inspiration for my dance-themed program. Recognized as one of the founders of ethnomusicology, Bartók researched, collected, and studied Magyar folk music. He incorporated it into his work along with the asymmetrical rhythms of Bulgarian dance creating a unique style. Bartók's success as a composer comes from research-based use of genuine elements. Romanian Folk Dances comprises six distinct movements (dances) of Transylvanian origin translated as: Stick Dance, Sash Dance, In One Spot, Dance from Bucsum, Romanian Polka, and Fast Dance.
Views: 8667